If I look a little vexed in this photo, it is because I am! Moo here came to visit all the way from the 15 and Meowing kitties on the other side of the county. Joanie sent her off to see cat friends all over the U.S. When she arrived here, it was just in time for one of my therapy cat visits, so I said she could come along. Usually that is not allowed, but I figured that since she's a stuffie, no one would mind. I did make her promise to behave and be quiet the whole time. But she totally broke her promise!
It was a quiet day at the children's hospital we visited. There were only a couple kids in the exam rooms waiting to be seen, and the lobby was almost empty. I told Moo to watch closely while I sat next to one boy and gave him some headbutts. Another toddler aged boy petted me, but he wasn't too rough.
My human and I looked around the exam rooms, but nobody else was there, so we got ready to leave… and then we found out Moo had gone AWOL! My human had to get security to let us back into the exam area so she could find Moo. And do you know where she was? She was sitting by the window of the office area like she belonged there! One of the workers asked if we had dropped her, and my human said yes. But I know the truth — she decided she wanted to live in the hospital! But she has a lot of other kitty bloggers to visit so she can't do that.
Here I am, checking to make sure Moo is safely placed in the tote's pouch.
And I told her she could not leave the pouch again until we got home.
In fact, I handed her over to Binga as punishment when I got home… and then Binga wanted to keep her! Maybe because she thinks that Moo is a troublemaker just like her.
Moo's stay here is brief because she has a fun trip to go on next. I hope who gets her next reads this, and puts a leash on her.
Vinnie Paul 1964–2018. You will be greatly missed.
* * *
---
---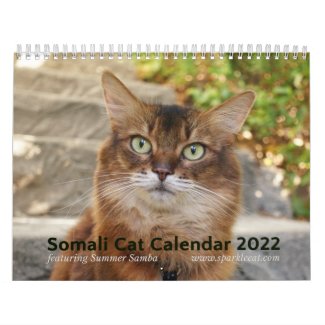 2022 Somali Cat Calendar Starring Summer Samba
See all of Summer's merch at her
her Zazzle Designercat Shop