You won't believe what happened! My human went out and got her usual from the burger joint down the street — a fried egg sandwich with avocado. But when she unwrapped it, she found out that they had put bacon in it! As many of you know, my human does not eat bacon. She does not eat four-legged things at all. She thought it would be silly to go back and return it, though, so she just took out the bacon… and saved it for me!
I could not believe my good fortune!
I wanted to eat all of it… but my human wouldn't let me. She said that was too much bacon for one little cat.
Yes, I had to do some tricks, but it was totally worth it. It was like getting a bonus treat instead of the usual freeze dried chicken!
I will confess… I did try to steal some of the bacon and run off with it.
But don't tell anyone, okay?
* * *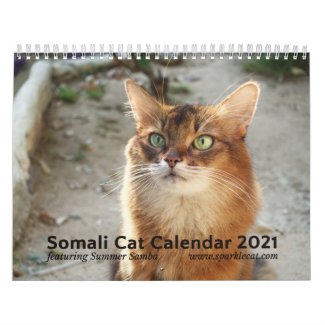 2021 Somali Cat Wall Calendar, Starring Summer
See all of Summer's merch at her
her Zazzle Designercat Shop