When I look back at 2015, I can't believe how much I accomplished! I certainly packed a lot into one year. Wanna look back with me at the highlights? Let's go!
In January, I went down to the San Diego Cat Show — the biggest show on the West Coast! That was the show where I earned my Grand Premier title in CFA. It was also where I met Sparkle's niece, Ruby. I'm going again next month, but this time I'm not competing. I'll be a Pet Me cat and hanging out with the public.
In February, I had a really fun Valentine's Day party! I'm still thinking about that heart-shaped chicken pizza!
I went to a cat show in Portland, OR in March… and I flew! And I met the humans of several of my blogging pals! It was very exciting. Since then, I've flown two more times.
One of those other times was in May, when my human and I flew to Nashville for BlogPaws! That was an amazing trip — I met so many cool humans, and a few kitties, and saw a whole bunch of dogs! I wore the costume above for Pawject Runway and earned a $100 gift certificate from Only Natural Pet… which I donated to Kitty Bungalow.
This year was the first time I was in charge of the Cat World Domination Day party (which is held every year on Sparkle's birthday), and I think it went off really well! I'm proud of the menu I put together! And if you are wondering about Sparkle's Guide — my human is busy laying it out! It should be done sometime soon!
My human went to Catalina Island for her birthday — and she took me and her boyfriend along! That was my first time ever on a boat. I loved the island hotel and our brunch.
I worked hard to put my 2016 calendar together! Although sometimes I did not get very much help.
I became a Supreme Grand Champion Alter in TICA, and celebrated with a Supreme Cake! And yes, I did get a taste.
You are probably getting bored of all the cat shows, but I have to mention the one did in Livermore, because I got to meet more humans of my blogging pals! And they made a nice cheering section for me for a ring or two!
A few weeks later, when I went to a cat show in Tucson, my human visited with one of the authors of Rescued — Harriet! That was awesome!
And we got to have a Christmas tree this year! It was my first.
As you can see, I had a very exciting 2015! I hope that 2016 is even more fun — see you then!
* * *
---
---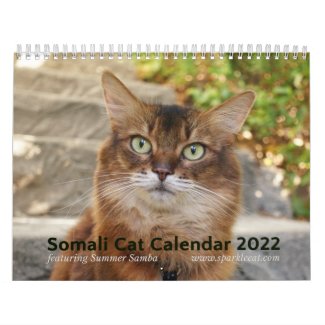 2022 Somali Cat Calendar Starring Summer Samba
See all of Summer's merch at her
her Zazzle Designercat Shop