Okay, well, it wasn't really me that found these. It was my human, when she was trying to straighten up my studio. (She is very far from done, by the way.) They are a couple of Somali cat stuffies. You can't really collect Somali stuffies, because they don't show up very often! So these are special treasures.
There is a long story behind this one, which my human got when Sparkle was around. It was part of a promotion held by, of all companies, McDonald's. They had these tiny stuffies of various cat breeds… and one of them was Somali! The only thing was, they were incredibly hard to get. My human searched for one for a long time, and finally got one off of eBay.
Although I appreciate that they chose a Somali as one of their breeds, I have to say, this stuffie is not very accurate. The eye color is fine… it's actually closer to Sparkle's eye color than mine. But the nose and mouth? Totally wrong! As you can see, I have a brick colored nose, as all Ruddy (brownish) Somali cats do. And we have Goth black lips, not pink.
This Somali cat stuffie is one of a kind. It was handmade by the human who has the Daily Abyssinian blog. She was experimenting with making Aby stuffies, and she also made this Somali one… which she sent to us as an incredibly nice gift! My human put the bow on it.
And here I am, wearing the bow. These stuffies had been put away in my studio, which is where my human found them. And she found something else too!
One of my very favorite cat toys!
I've missed it!
* * *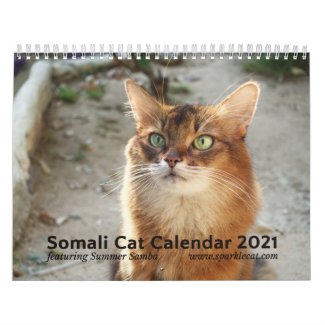 2021 Somali Cat Wall Calendar, Starring Summer
See all of Summer's merch at her
her Zazzle Designercat Shop