We visited the children's hospital, and I started working even before we signed in. We went up in the elevator with a mother and a little girl with her arm in a cast. The girl was already interested in me, and once we all had checked in, I jumped on the couch where they were seated to visit. I knew right away to rub on the cast and give the arm my purr therapy. I don't know why my human is always surprised when I do this. It is part of my job, after all. And with the exception of the medical staff, I know better than anyone else what needs healing. Sometimes it isn't a physical part, either.
Because of the ever-present virus in its many forms, protocol is always changing at the facilities. Usually we visit the exam rooms here, but because because of the latest spread, they said we couldn't go there for a few weeks. Nobody was able to tell us whether we could visit pre-op or rehab, so we went to the administrative floor to ask. And I am so glad we did because a couple of staff members up there were starved for therapy cat attention! That was gratifying. We never did find an answer about the other areas for this visit. But it didn't matter, because everyone goes through the lobby anyway.
I saw lots of nice kids in the lobby. There was a very young girl whose mother made sure she knew I was "a kitty and said meow." And I visited a teen girl on crutches who got on the floor with me. I was approached by a few different kids while we were there, so I was kept pretty busy!
Something is always going on in the waiting area of this hospital. Sometimes a party is happening, or a crafts table. On this particular day, a staff member was going around handing out brand new dolls to the children. They do everything they can to make visits interesting, less scary, and even kind of fun. I am so glad I get to be a part of this.
Other posts you'll enjoy:
* * *
---
---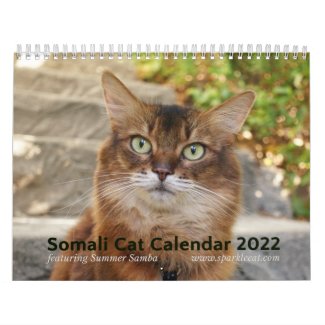 2022 Somali Cat Calendar Starring Summer Samba
See all of Summer's merch at her
her Zazzle Designercat Shop