My human has had a rough couple of days, between the news and working behind the scenes on my blog and her publishing website. So I thought I would give her a little break and tell you some little known facts about me. I think you will find them interesting!
Although I work very hard as a therapy cat, when I'm at home, I let Binga do the nursing if the humans aren't feeling well. There's a big difference between "lying in bed at home sick" and "being in the hospital sick," and I know it.
My wearing dresses and costumes was a fluke. When my human first brought me home, my breeder joked that I was so easy-going, I would probably wear a costume. My human had a few cat outfits sitting around, so she put one on me. And I liked it!
If my human is busy and I am feeling neglected, she puts a dress on me, and I feel better!
Sometimes I like licking my human's face or hair. I hear that this is a family trait, and many of my Somali relatives do this too to their humans.
I met my birth brother's family! They live in San Jose, and the parents got my brother so he could grow up with their baby. He was named Voodoo Chili by my breeder, and they changed it to Nacho Chili. The three of them came to visit at a cat show I was at in San Jose, and the little boy (by then he was a toddler) thought I was Nacho! He was very put out when his parents told him it was time to go. He thought they were leaving Nacho (me) behind. I wonder if he was confused when he got home, and Nacho was there.
Voodoo/ Nacho Chili is the only one of my siblings my human has met. We did a couple of shows together as kittens, but he wound up going to the family in San Jose. My other siblings never showed. They went to homes as soon as they were old enough.
Even though I go to shows and am often benched next to one of my relatives, I never get to see them! That is for their protection and mine. A lot of times cats don't like being faced with other cats they don't know well, and it can be upsetting. If a cat freaks out at a cat show, it can ruin his whole show career. And my human is very protective of me as a therapy cat.
My shade of mahogany brown ticked fur is called Ruddy, and only Abyssinian and Somali cats have this color. But my mother isn't Ruddy — she is a Blue Somali, which is actually a dilute version of Ruddy.
There is only one way I absolutely loathe to be handled — when my temperature is taken at the vet clinic! It's really awful, the worst! Fortunately, it is not something that anyone would do to me on a therapy cat visit, otherwise I couldn't do it.
Somalis are generally pretty active cats, and I do have my moments of playful craziness. But I'm more placid than most, which is good for being a therapy cat. In fact, my human calls me, the laziest Somali she has ever met. I hope you disagree with that, because I think I work pretty hard!
* * *
---
---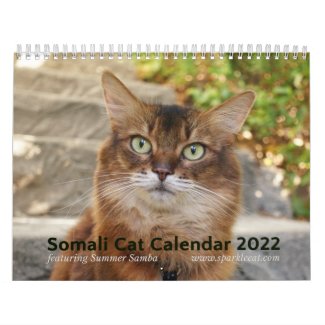 2022 Somali Cat Calendar Starring Summer Samba
See all of Summer's merch at her
her Zazzle Designercat Shop