A few weeks ago, my human got a press release announcing the Martha Stewart Pets Fall and Halloween collections. The items featured in the email were mostly dog stuff, but my human's eyes lit on one thing she found irresistible: a devil costume with adjustable harness. So she asked for one, in small, and the Martha Stewart humans sent her one! There was just one problem: while I am a small for the Puppia harnesses, small in the Martha Stewart harness was too big for me! It was even a little big on Binga. So my human emailed the Martha Stewart people, and they obligingly sent her an x-small, and what do you know — it fit!
I actually did not mind wearing it at all, even though it is meant more for a dog's build.
This is my devilish expression! All I need now is a pitchfork.
Because I have such big ears, it is easier for me to wear it hoodie down.
Plus it is easier for me to play when the horns are down — they have a habit of slipping off when you are attacking a misbehaving cat toy.
Here is a full shot of the harness costume, so you can get a better view of the little tail on the back. And yes, if you look in the lower left hand corner, there is Binga, trying to bomb my photo session. But she is welcome to do that, under one condition…
My human still had the larger devil harness! With a little bit of cinching it just barely fit her without slipping off.
I hope she enjoyed her photo bomb.
So who do you think is the real devil here?
* * *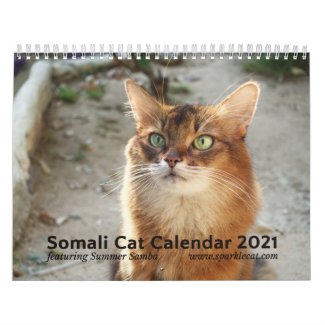 2021 Somali Cat Wall Calendar, Starring Summer
See all of Summer's merch at her
her Zazzle Designercat Shop