I get to go on an adventure today! And I don't even have to leave home.
The old stairs were so rotten and splintery that I was never allowed down them to explore. But now that we have the new ones, I can go check out my backyard!
There is a lot that I haven't gotten to see yet!
There is a whole 'nother walkway to explore! And more stairs!
I actually had no idea that all of this was down here! My view from the back patio hid some of it.
It's so cool that all of this is here!
This is all part of our property, until you see the fences. For Los Angeles, it's a lot. My human has always wanted to hire a landscaper for the backyard, but she's never been able to afford to. She probably could have if she hadn't needed to put in the retaining wall by the kitchen. I hear that cost a lot of money!
There's a retaining wall down here, but it is very sturdy.
It is green down here because we've had a lot of rain lately, and it is also messy because the gardener hasn't been here for a couple of weeks. My human says that when the gardener cleans things up, we can explore some more.
* * *
---
---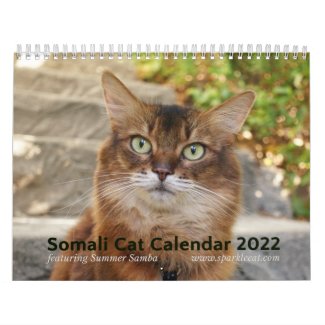 2022 Somali Cat Calendar Starring Summer Samba
See all of Summer's merch at her
her Zazzle Designercat Shop