Even before I came home, my new human put me to work! I was in the hotel room the weekend I was competing in the cat show in Costa Mesa, and she pulled out these treats from Chewy.com! Apparently, Sparkle was supposed to review them, but it was a disaster. She wasn't eating and Binga tried to steal the whole container and I think my human may have cried. So when she came down to spend the weekend with me, she brought the treats with her.
These are Dr. Tim's Natural Beef Liver Freeze Dried Treats! The ingredient list is so simple a kitten could read it: beef liver, and nothing more. It has been freeze dried and it is for both cats and dogs! The pieces are kind of big, so they need to be broken down for kitties, and even smaller for kittens like me who are just getting in their adult teeth. They are kind of hard to break up, so my human found the smallest pieces in the container to give me and I loved them!
In fact, I thought they were so tasty, I tried to eat one of the big chunks! My human said when we got home, she would break them up into smaller pieces for me. (They can also be soaked in water.)
Once I got home, I found there were jobs that no kitty was doing. Like this one — if my human takes a nap on the sofa, there's a totally unused spot on the pillow, right above her head! So I took it over.
I'm also head mousie hunter. Here are two of my latest kills. I can't wait to see what other jobs I will be assigned!
* * *
---
---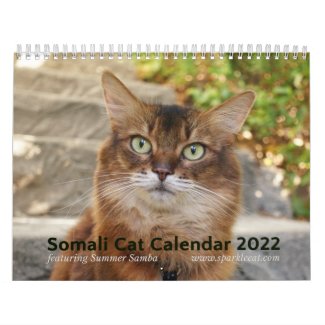 2022 Somali Cat Calendar Starring Summer Samba
See all of Summer's merch at her
her Zazzle Designercat Shop