My human was looking through some old photos, searching for something having nothing to do with this blog post. And then she happened on the photos in the June 2015 folder, and was amazed at how many beautiful shots there were of me! I was only a little over a year old and still learning to be a cat model, but you wouldn't know I was still a rookie from these photos.
This tight close up was taken outside. I'd only been leash trained for a few months, but I was already comfortable modeling out front and back.
Here is more of a three-quarters view.
It's pretty obvious I was a natural right from the start. I learned early on to be camera aware and to pose, and I enjoyed it a lot! And still do.
I also had practice dealing with distractions and photo bombers. As you can see here in the lower right hand corner.
She wasn't always a pain, though.
I hope you enjoyed my look back at my early modeling days… and now I'm a pro!
Other posts you'll enjoy:
* * *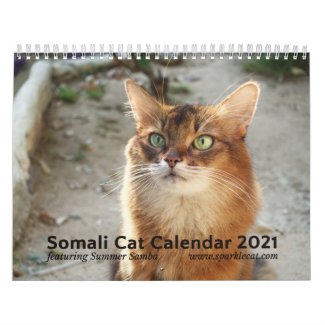 2021 Somali Cat Wall Calendar, Starring Summer
See all of Summer's merch at her
her Zazzle Designercat Shop