I'm very lucky. There has been a big heat wave in my part of the U.S., but it hasn't been too bad here. So I've gotten to spend some time outside right around dinnertime.
I usually forget, but when I'm outside on my leash at home, I can wear some of the harnesses I can't wear in unfamiliar surroundings. You know, the ones that don't fit that well, or have flaws but are still pretty. So that's what I did today. (In case you are wondering, you can see some of my at-home-only harnesses here.)
On the way to my catnip, I took in the view of my backyard. There is always a lot to see, and my human misses most of it because her eyes aren't as good as mine.
But enough of all that, I know you want to see my catnip garden! Well, at least I do.
As you can see, it's doing awesomely!
But wait… there's more!
The built-in planter next to my catnip garden has a catnip plant growing in it. When my human first started planting my catnip, people warned her that it would spread! Like that is a problem? Anyhow, This is the first time in 10 years that the catnip actually sprouted somewhere else other than the planter it started in. So I consider this a win.
I think this new nip plant deserves a high five, don't you?
And in case you'd like to see, my human shot a quick video of me looking into the backyard.
Other posts you'll enjoy:
* * *
---
---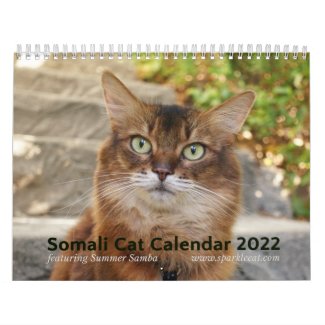 2022 Somali Cat Calendar Starring Summer Samba
See all of Summer's merch at her
her Zazzle Designercat Shop