There's a story behind the gifts in this Valentine's Day giveaway! Three-quarters of them came from a purchase my human made sometime in the middle of last year. She saw an ad online from a shop that was closing down and selling cat-themed items at a deep discount. She thought some of them were cute, and that maybe I could use some for a giveaway around the holidays. So she ordered them.
The only thing is, she didn't notice that it was a Shopify shop! In case you don't know (and a lot of you probably don't), a lot of people put together shops on Shopify made up of stuff that comes directly from China. Which means it takes forever for them to ship out and arrive. These items took months and months to get here! By the time we got them, it was actually too late for a holiday giveaway. So they've been sitting around for a few weeks, and my human decided it was time to give them a new home. Hence the giveaway now.
Anyhow, here they are:
This glass black cat cup is tiny — it only holds about 6 oz. or so. But it's really cute. My human actually got a calico cat one for herself. Anyhow, this is one of the giveaway items.
This necklace has a dainty cat in the moon charm. We're not sure how long the chain is.
This is actually two necklaces! The black and steel silver yin-yang kitties are separate pieces that go on different cords. You can wear them together, or share with your Valentine or other favorite friend.
This little Lucky Cat bracelet has a different story altogether. It was supposed to be part of last year's Cat World Domination Day giveaway, but it somehow got misplaced. And then found again… which is why it's a part of today's giveaway.
So there you have it! I think for being kind of thrown together, this is a sweet little giveaway! I hope you enter. The giveaway is on until Wednesday, February 26, and it's worldwide (wherever giveaways like this are allowed). Just begin by commenting on this blog post and saying you did on the Rafflecopter widget below. Once you do that, you'll have more options to earn entry points. Good luck!
* * *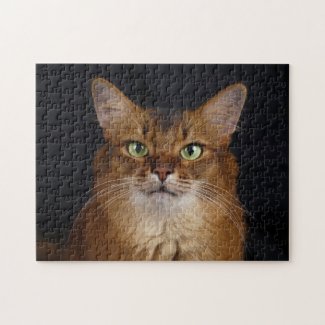 Somali Cat Photo Portrait Jigsaw Puzzle
See all of Summer's merch at her
her Zazzle Designercat Shop