It's almost time for Meow MeetUp! We are on the road today, but we had a lot to do this week to get ready. Since I'm only officially meeting the public for an hour each day, I kept my wardrobe choices simple.
Of course, my pink heart sunglasses were a necessity!
My human will be at booth 502, selling her books and cards. She will also have some refrigerator magnets. She had some new ones made up as a last minute Meow MeetUp addition.
Here is a closer look at them. Don't worry, she is not taking all of them. There will be some available for sale when we get back from Chicago.
The crazy thing is my human got some new treats for photo sessions and to take on this trip for me. And she didn't even notice the name of the treats until she came home! Can you see what is says on the bag?
What a funny coincidence! Maybe I should ask for an endorsement.
* * *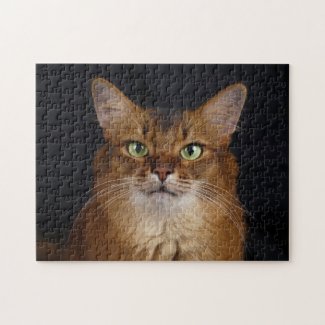 Somali Cat Photo Portrait Jigsaw Puzzle
See all of Summer's merch at her
her Zazzle Designercat Shop