My human had scheduled yesterday's hospital visit quite a while ago, so I went to both my hospitals in the same week! (The other visit is here.) I'm beginning to feel like a kitty nurse as much as I am a therapy cat.
A new therapy team accompanied us this time: a big guy and his huge St. Bernard, Clementine. Clementine was awesome! She just wanted to lie down and have her belly rubbed. I hear that St. Bernards are mellow dogs, but she was even mellower than I expected. She also likes kitties and lives with a couple.
Because there were two of us, we were able to cover all the patients on all the floors we had scheduled. This hospital is easy, actually, because a lot of the patients are sleeping. I got the feeling that the first two patients who wanted to see me weren't huge animal people. They still enjoyed my visit and I snuggled with them, though. The third one, however, was thrilled to see me! I know she is an animal person because she told my human right away that she was. And if you don't think animals can't tell — ha! We totally can, and I warmed up to her instantly. My human took a photo of me and the patient (my human has a special Polaroid style camera supplied by our organization), and you can tell I was enjoying the visit.
My next visit was with a patient and her husband who barely spoke any English. But they were all smiles when they realized I was there to spend time with them. My human had a hard time communicating with them… but funny enough, the husband was having trouble taking a photo of me and his wife with his phone, and that my human was able to fix!
The last patient I saw on this visit was my friend with the artificial arm who always has the biggest smile when he sees me. He has been there for months. I wonder why, but I guess I'll never know.
* * *
---
---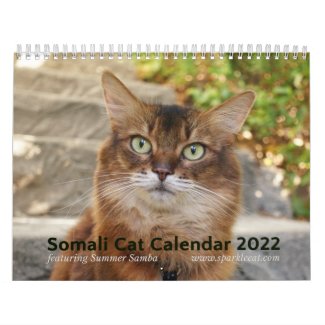 2022 Somali Cat Calendar Starring Summer Samba
See all of Summer's merch at her
her Zazzle Designercat Shop