I know you may find it hard to believe, but my human's life is not all about cats 24/7. But yesterday, she did have an all-kitty day. First she went to one of our local pet shops, the Urban Pet — and she brought me along!
Even though I got to whiff some of the Meowijuana they had, she didn't get any because, well, we really do have enough nip at home! At least that is what she says.
Although she let me explore, once we got to checkout, we had to leave quickly because we were getting frozen raw food. We can't linger when she gets something out of the freezer.
Later that night, my human went off without me to an event and fundraiser Kitty Bungalow is having all weekend at an art gallery. Tonight was the opening, and it is right over the hill from our house.
There were lots of cat-themed paintings. My human really liked the black Buddha cat… but it's $500, and she really shouldn't be spending $500 on art right now.
Here is some more of the art.
My human's favorite out of this bunch had the dreaded red dot, which means it is already sold.
The author of Strays, Britt Collins, will be there for a reading on Sunday. On Saturday, there is a holiday bazaar, crafting classes and a poetry slam.
Here is what was in the most demand! Some of the Kitten Bungalow kittens were there for cuddling.
For $1 a minute, humans could sit in here with the kittens. My human only had a one dollar bill and a five dollar bill, so she bought five minutes. She's not really the cuddling type, though. The main reason she wanted to spend time in the Kitten Cabana was… to take photos!
This little guy was more than happy to oblige.
He was quite a ham, in fact! If any of you live in L.A., you should drop by and help out Kitty Bungalow!
* * *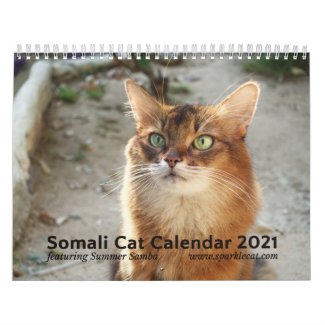 2021 Somali Cat Wall Calendar, Starring Summer
See all of Summer's merch at her
her Zazzle Designercat Shop