As most of you know, I am going to the BlogPaws Conference in less than two weeks! I am really excited — it is going to be my biggest adventure so far! Since the conference is going to be in Nashville this year, I wanted to fit in, so I had my human order me a cowboy hat! But it did not work out the way I expected it to.
It was just a teensy bit the wrong size! It was slightly too big to fit comfortably between my ears, and too small for my human to cut in some earholes.
My human tried pushing the hat a little forward but that didn't work.
Pushing it a little farther back didn't work either.
We tried tilting it over one ear, and that almost worked. In fact, it's pretty dashing from some angles!
The only problem was it made my head tilt… and I couldn't straighten up!
I thought maybe it would look stylish if I wore it slung over my shoulder. Does it look like I'm trying too hard? Oh well, maybe my human will bring the hat to BlogPaws anyway and see if there is another kitty (or maybe even a dog!) that it will fit better.
And in case you noticed a wayward tail in the background of the first photo… yeah, she had to wear it too! And was way less cooperative.
* * *
---
---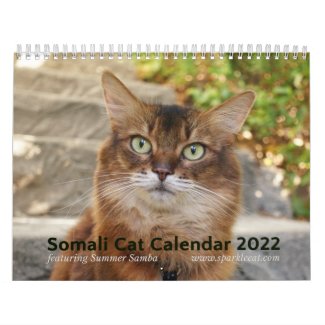 2022 Somali Cat Calendar Starring Summer Samba
See all of Summer's merch at her
her Zazzle Designercat Shop