I know, I know, it isn't even Christmas in July — we're still in June! But a Christmas show is auditioning talent, and I need to figure out what to wear. I got the chance because the casting human saw me on social media and thought I looked cute and wanted to see if I could do some tricks. So the audition is going to happen on Skype this afternoon! My human is going to be on camera too, so she had to dye her roots earlier than she had planned. Fortunately for me, I have no such problems. I just have to show up. I've even recently been bathed.
As you may have noticed, I have a whole wardrobe box devoted to my Christmas outfits. And I am even missing a few key pieces, like the one on this card. I'm not sure where my human placed that, and she's hunted all over the house for it.
I have a bunch of different Santa hats to choose from!
And a bunch of different dresses. I'm still undecided about what I'm going to wear.
Honestly, I think nearly any of them would do, as long as they're comfortable enough to do tricks in! One thing my human is going to try to show me doing is jumping through my hoop! You guys haven't seen me do it because my human hasn't figured out how to shoot a video with just me and not her in it. But I love doing it, and I always get excited when we practice.
It's important that I can both look festive and do fun tricks! So of course the bell is going to come out, along with my usual — paw shakes, high fives, etc. I'll let you know how it goes!
* * *
---
---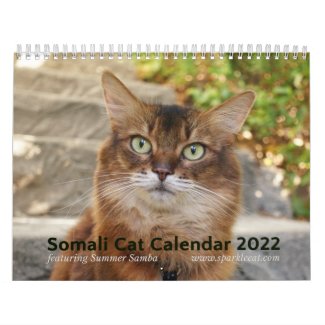 2022 Somali Cat Calendar Starring Summer Samba
See all of Summer's merch at her
her Zazzle Designercat Shop