You saw me posing with this package in a blog post the other day — now you get to see what's inside the wrapping!
They are beautiful, handmade kitty accessories! I won them from a good pal on Instagram, Badger (@badger.dot), and his human. His human crocheted them herself, and she did an amazing job!
Isn't this scarf sweet? It's perfect! And originally, I thought that was all I was going to get.
But they also included this pretty cowl! Seriously, Badger's human does awesome crochet work. My human knows how to crochet, but her pieces always turn out a little bit warped and curly.
Even better, they look awesome together! Which is why I decided to wear them in this week's selfie.
So hand me the iPhone, and I can get it done!
And I even got it right the first time! Occasionally it just works out like that.
* * *
---
---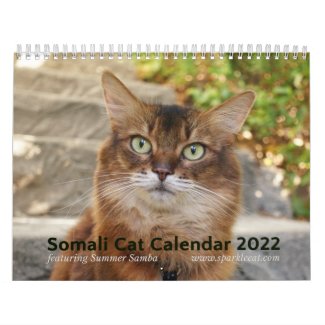 2022 Somali Cat Calendar Starring Summer Samba
See all of Summer's merch at her
her Zazzle Designercat Shop