I bet lots of you are already familiar with Texts From Mittens, the book and calendar series from Angie Bailey. Mittens' hilarious text bursts began on the Catster website, and the first book came out in 2015. Mittens' latest is called Texts From Mittens: The Friends and Family Edition. And as you might guess, we get to see Mittens interacting with familiar characters such as Earl the dog, Stumpy (Mittens' niphead pal), Mittens' human Grandma, his girlfriend Fiona, and Drunk Patty. Oh, and his human, of course.
Let's take a quick look inside the book.
Each page is a new mini-adventure in the life of Mittens, and it's the type of book you pick up to read a page or two for laughs… and then you can't put it down! If you already are a Mittens' fan, you'll enjoy this book. If you don't know Mittens yet, what are you waiting for! Get a copy of the book now… or you can also enter my giveaway!
I was given a copy to give away to one of my lucky readers. It's U.S. only — international shipping is too pricey for just a book! The giveaway is open from now until Friday, September 27. Good luck!
You can buy Texts From Mittens: The Friends and Family Edition here.
You can buy the Texts From Mittens 2020 Day-to-Day calendar too!
Now, if you will excuse me, I've got some texting to do.
Disclosure: I am an Amazon Associate, and I get a small commission if you click on one of the above links and make a purchase.
* * *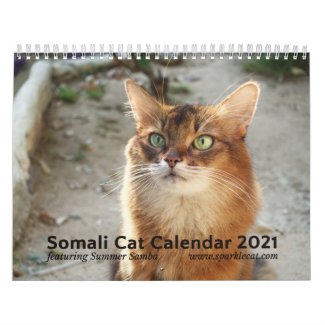 2021 Somali Cat Wall Calendar, Starring Summer
See all of Summer's merch at her
her Zazzle Designercat Shop