Meet Chase! He comes from the same small cattery as me. Actually we are not directly related. He is related to Vana on his mom's side, and I am related to Vana on her dad's side. I don't know what kind of relationship this means I have with Chase, if any. If any of you humans with big families have suggestions let me know!
Chase and his brother Obie (who you will see tomorrow) were at yesterday's cat show. In fact, it was their very first cat show! My human helped carry Chase to and from the rings, and played with him a bit in between. Chase is really an outgoing kitten — by the third ring, he had decided my human was his new best friend and purred for her! He is making a very easy adjustment to cat show life.
Since he was so happy and friendly, I thought I would leave the selfie taking to him this week. So you get to see Chase's very first selfie at his very first cat show!
Hmmm… that didn't go to well. Well, he is only four months old. I'll give him another chance.
That is better, but… well, it's still pretty bad. He decided to lie still for a moment, so I let him give it another try.
What is he doing here? Why is he licking the show program? I may have to take the iPhone back if he doesn't stop goofing around. He gets one more chance.
And… he got it! It's a little fuzzy, but it's pretty good for a first selfie from a four-month old kitten. Don't you agree?
* * *
---
---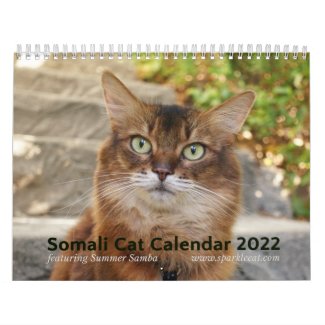 2022 Somali Cat Calendar Starring Summer Samba
See all of Summer's merch at her
her Zazzle Designercat Shop