I always enjoy being a Pet Me Cat at the cat shows. Sometimes my human has a hard time getting photos of me sitting in my Sleepypod bed because I'm so busy making happy paws. It always looks like I am missing a paw!
My human spent some time working with Chase, as I mentioned yesterday.
She played with him a lot, and tried to get him to stand like a proper show cat. He still needs to work on that a bit.
Here are the three somali kittens who competed in this weekend's show. Chase is number 47, and his brother Obie is number 48. Chase has a sweeter face, while Obie's got a more intelligent expression. The blue girl on the end belongs to my pal BJ's human. I don't know if they are related. I would not be surprised if they were.
Being on the judging table was very new to all the kittens. My breeder works a lot with the kittens to get them used to the things that happen at cat shows. But you can only do so much without actually being at a show. Chase kept wanted to walk off the table the first couple of rings.
Obie was pretty active too, but maybe not quite as crazy as his brother.
The judges are patient with the kittens. Although they aren't given info on who owns the kittens, they do know how old they are. So when they get a four month old baby, they know it is probably the first, or one of the first, shows for him or her. This judge was really good with the kittens, as you can tell.
In most of the rings, Obie got Best Somali Kitten over Chase and the girl. Although a few times, the judges had a hard time deciding between the two boys who should be first.
Chase did get one Best, though!
Obie actually got a couple of finals, which is awesome for his first show! All the kittens got exposed to a lot of new things. Here, Obie is a little surprised to see a naked kitten sticking his paw out of a judging cage! Until the show, he'd never seen a cat with no fur.
The boys eventually began looking forward to being shuttled to the judging rings! They thought it was something new and fun.
And like all good Somali boy cats, they began to learn how to create havoc.
Meanwhile, I was perfectly happy to visit with spectators and get petted! I don't miss the show ring at all.
* * *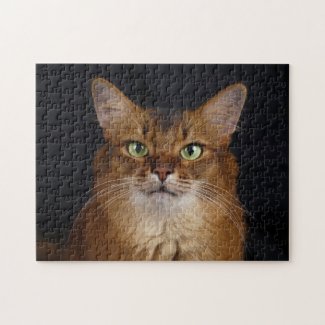 Somali Cat Photo Portrait Jigsaw Puzzle
See all of Summer's merch at her
her Zazzle Designercat Shop