I was in Palm Springs this weekend for a one-day cat show! It was mostly fun, but it did not get off to a good start. Like usual, I had my bath and groom before we left, but not long after we checked into the hotel, disaster struck!
My tail fur, and the fur at the base of my tail, was greasy! Why is still a mystery — maybe I got into something or my normally-meticulous human didn't rinse my tail well enough, or who knows? In any case, there was no way I could be shown like that — no judge would put me in a final. My human tried fixing it with dry shampoo but it didn't help enough, so she had to use the "nuclear option" — she gave me a tail bath! Fortunately, she brought my shampoo in case of just such an emergency. The bath itself wasn't much fun, but I was very patient while she used the funky hotel dryer to groom me. I even head butted her! I'll be honest… it feels kind of good when my back end gets blow dried!
It was much better, but my human spent the rest of the weekend messing with my tail and britches to keep them looking acceptable. Can you see the little pink containers? Those are my shampoos.
The rest of my time in the hotel room was fun! I enjoyed rolling on the rug and jumping around at 5:30 AM!
And even though the room looked out on the parking lot, there was still lots of good Bird TV to be had!
And of course, I had the cat show to do! It was six rings in one day, so it was a long day! My human got me some new toys, including the spring you can see at my feet.
I used it to keep my energy up!
I always find myself surrounded by a wide variety of kitties — here, from left to right, are a Devon Rex, an Oriental Shorthair, me, and a Cornish Rex!
And that fluffy white Persian guy was back again, of course! It was a tough show for everyone — there was a white Persian female also competing in Premiership, and it was pretty amazing, seeing her and this guy next to each other in the judging cages! Several of the cats I was competing against are in the top 25 national premiers! And of course, they were usually the ones who took the top honors in the judging rings.
But there was still room for me in the top ten in four out of the six rings! At this show, they didn't give out ribbons. Instead, they gave out these cardboard acknowledgements — and cat toys! So I really cleaned up in the cat toy department… along with my clean tail!
* * *
---
---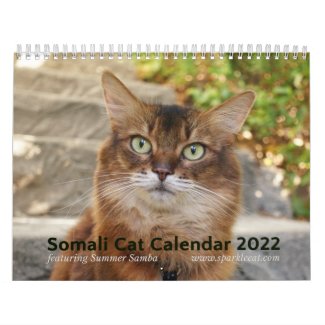 2022 Somali Cat Calendar Starring Summer Samba
See all of Summer's merch at her
her Zazzle Designercat Shop