The Feng Shui Birthday Blues
This has not been a happy month. My human's website stopped getting traffic from Google and even though she found out some of the reasons why, there's nothing she can do to fix it. Since the income from her site has all but stopped too, she told me that I'm going to have to do a little more to help support our household. That's a lot of pressure to put on a cat, if you ask me.
In desperation to have some sort of control over her life, she hired a feng shui expert to bless our house and offer some suggestions. I hated the blessing — my human and the feng shui woman were flinging orange peels all over the house! It was weird. Then the feng shui woman told my human to do some stuff to make up for the fact that the house is missing a "prosperity corner." First off, she told her to rip up the ugly carpet in the office and bedroom. My human hated the carpet anyway, so she was glad to do that.
Boodie was bummed — she loved sharpening her claws on it and hated to see it go.
Then my human had to rearrange all the furniture to put her desk as close as possible to where ever that "prosperity corner" is supposed to be. I liked that part! I got to play in the little glass bookcase before the books got put back.
Once she was done with rearranging the office, my human wasn't all that thrilled with the results. The cords are all over the place and it doesn't look all that great. But at the moment she's desperate for some prosperity so she will do anything.
Of course, I figured this meant my birthday wasn't going to be all that great and I was right. My human pulled out my gift and it had an interesting looking ribbon thing on top, but when I looked more closely, my heart sank.
It was the same Tiffany box from my birthday a couple of years ago. I knew what that meant, and I was right. It was a new collar.
What a boring gift. And then I had to model it too.
In an attempt to atone my human brought out yet another gift. I was not interested even though it, too, had a fun looking ribbon on top.
It turned out to be another electronic squeaking mouse,
like the one the calico visitor trashed. Well almost like it. This one's pink.
I didn't like the color. I tried unsuccessfully to drum up some enthusiasm for it, but I couldn't hide my disappointment.
I knew my human and her boyfriend were going to the Pet Expo, so I still held onto some hope that the month would turn out better. But no — my human showed up with a handful of free food samples and a really cheap toy.
Oh, and let's not forget the inevitable dollar catnip bag that Binga always commandeers.
She's also the only one who liked the cheap toy.
I watched all this with annoyance and boredom. When humans are having a hard time, why must they weigh us down with their woes?
* * *
---
---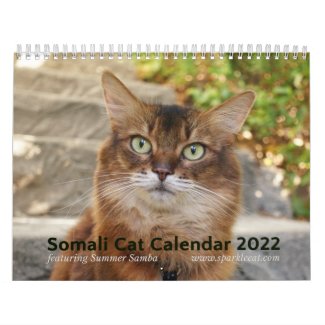 2022 Somali Cat Calendar Starring Summer Samba
See all of Summer's merch at her
her Zazzle Designercat Shop