Those of you who know what June bugs really are, are probably saying right now, "Hey! Those aren't June bugs!" And you are right, they're not. But it's June, and my human and I have some baby praying mantises to release.
My human loves praying mantises. I'm not sure we really need any in our yard, but the thought of having a few around appealed to her, and they do eat bad bugs (and any other bugs they can get hold of). So she went to the nursery and got a container with a couple of egg pods. You're either supposed to attach them to a branch outside or keep the container in a cool place inside. She did the latter, and the instructions said that as soon as they hatched, they needed to be released. Well, that's exactly what happened! My human saw all the little buggers just a little while ago, so it's time to set them free. Of course I am helping.
Here I am, performing quality control as soon as my human opened up the container. She thinks I am nearsighted. I just wanted to see them up close.
And now you can see them up close too! They are tiny. With any luck, some of them will grow up to be the usual three or so inches long.
The main reason you have to release them right away is they hatch starving, and they will totally eat each other if they can't find anything else to eat. Oh, also, when they grow up and mate, the female sometimes bites off the male's head and eats his body. I'm not sure I like these critters!
My human has no reservations about these guys. She even encouraged them to sit on her hand. I guess she is too big to be eaten anyway.
And hopefully I am too! Although I've heard the really large kind of praying mantis will even eat birds! Maybe we tiny predators need to stick together.
Other posts you'll enjoy:
* * *
---
---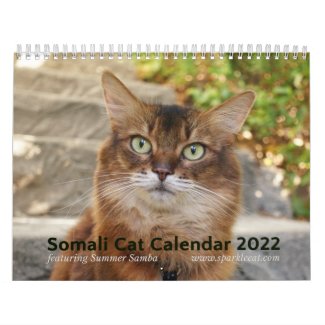 2022 Somali Cat Calendar Starring Summer Samba
See all of Summer's merch at her
her Zazzle Designercat Shop