Chaos!
Binga got a new collar. It's nowhere near as nice as mine, of course.
That's not the only change that's going on around here. In fact, the whole house has been in chaos! It has something to do with this guy my human keeps calling "the Realtor®." Sounds ominous, doesn't it? In any case, my human and her boyfriend moved a whole bunch of furniture, apparently because of this Realtor®.
They also boxed up a bunch of stuff and carted it away. Boodie just had to sit in every box she could find, big and small. She's lucky she didn't get carted away too.
They almost completely emptied out the huge closet in their bedroom. Now Binga's allowed to go in there as much as she wants. Of course, it's not as interesting without all the stuff in it.
Meanwhile, my favorite painter came in and painted my human's boyfriend's music room. I like him because he's a cat person. He also has drop cloths I like to roll around on.
My human kept trying to do stuff to make the house look, as her boyfriend put it, "like real people live here." One of her projects involved some shelves for the upstairs bathroom. The shelves had been sitting in an unopened box for some years — almost as long as I've been here. She was all excited because she said that now that the bathroom was done, she could put up the shelves. She laid all the pieces on the floor and got ready to assemble them. We cats, of course, did our best to help.
Unfortunately, there was one thing we couldn't help her with. The contraption wouldn't fit behind the toilet like it was supposed to. Even after her boyfriend carved a space for the handle, it still wouldn't fit, so my human had to junk the whole idea.
She had other projects in store, however, like putting brand new sheets on the bed. Binga was excited.
Boodie was dubious about the whole thing. She laid on the package the bedspread came in and waited for her chance to get cat fur all over everything.
Binga beat her to it.
Personally, I prefer lying under the bed. I even made a hammock out of the bottom of the box springs.
But the weirdest thing of all is that my human had a bunch of people bring all new furniture into the living room. Furniture that she didn't even like! She called it "staging" the room, and apparently she's paying a bunch of money to do this. I totally don't get this staging thing. I'm not so sure about the furniture either.
Binga didn't care. She immediately made herself at home.
I was frankly a little miffed that they put a picture of the dog on the table.
Even more annoying — my human told me I couldn't sharpen my claws on the brand new rug. So I am not happy with this new living room decor either.
With all this excitement going on, no wonder I got sick. I was limping and having a hard time jumping on stuff, so my human immediately whisked me off to my least favorite place in the world, the veterinary clinic. I hate that place so much I even prefer staying in my carrier, which I don't like, either.
They took x-rays but couldn't find anything. The vet assumed I must have bruised myself at some point and gave my human some pills that I'm supposed to take. I actually got to see my x-rays. It was amazing. I'm even lithe and graceful on the inside.
* * *
---
---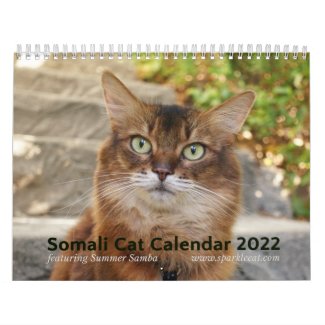 2022 Somali Cat Calendar Starring Summer Samba
See all of Summer's merch at her
her Zazzle Designercat Shop