Now, Mr. Kitty….
It's Ms. Kitty. I'm a girl.
Oh, excuse me. With that tie, I just assumed you were a male Somali cat.
I wanted to look professional. Plus it shows I am comfortable with neckwear.
That's right, you are applying to be a fashion model. Can you tell me a little about your background?
I am a regional award-winning show cat in both CFA and TICA, two years in a row. I am also a certified therapy cat. I have posed for two monthly calendars, and I do several photo sessions a week, both posed and casual, for my blog, sparklecat.com.
Very good. Can you give me a cute look?
Like this?
Yes, but… can you give me more of a head tilt?
How about this?
Yes, that's good.
Now, can you give me a wistful look?
Here's one!
Hmmm… could you put your chin down, just a bit?
Like this?
Much better.
Do I get the treat, I mean, job? Do I?
Let me get back to you.
* * *
---
---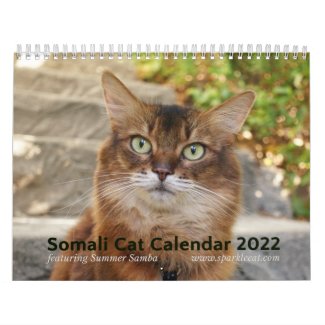 2022 Somali Cat Calendar Starring Summer Samba
See all of Summer's merch at her
her Zazzle Designercat Shop