Some months, I don't have a whole lot of random outtakes to share, and January was one of them. Oh, I did have outtakes — lots of them! But they told a story on their own, like Binga's photo bombing, or my not-so-glam photos. So they became a whole separate blog post. And sometimes outtakes found their way into a regular blog post, like my clicker training story, when my human was playing stupid games with the pointer. These outtakes and extras somehow got left over, but I still wanted to share them with you.
The funny thing about this photo of me staring dubiously at the doggy poop bags is, if you look in the background, my human was buying kitty litter! My human often uses those doggy bags for clean up when we are traveling, actually.
I already used outtakes of me in the elf hat in other posts, but this one of me with my tongue out somehow fell through the digital cracks. And it is tongue-out Tuesday, so there you go.
Here I am at the Ontario cat show, blowing raspberries! I hope the spectators did not think badly of me.
Actually, I intended to use this photo as part of Sunday's blog post, but it didn't really fit. When I roll around on the floor of the hotel room, it means I'm ready for bed.
Here's another photo that didn't make it into Sunday's blog post. It was my human's idea — she thought I would look cute with the sheet draped over me. Surprisingly, this was not a bad idea!
I hope you enjoyed my outtakes and extras today!
* * *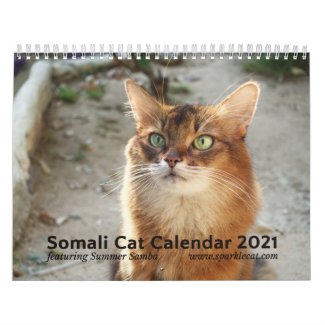 2021 Somali Cat Wall Calendar, Starring Summer
See all of Summer's merch at her
her Zazzle Designercat Shop