I'm here to tell you a little bit about World Lion Day. But I don't have a good jungle set to do it in, so I guess this monkey will have to stand in for color.
Oh yeah, and the mane. I almost forgot about that.
I'm a fierce lion! Can you tell?
But really, if we don't do something about conservation and preserving the lion's natural habitat, all we are going to have left is cats wearing these things on their heads! Did you know that a hundred years ago, there were 200,000 lions? But now there are only 20,000. Between the human destruction of their wildlands, and trophy hunters, lions are at risk for becoming extinct. We can't let this happen! You can find out more, and how to help at the World Lion Day website.
Wait?! World Lion Day is August 10? My human had August 15 on her calendar. We missed it?
Still, we need to work year round to help lions! It can't be just one day. So you can still help.
* * *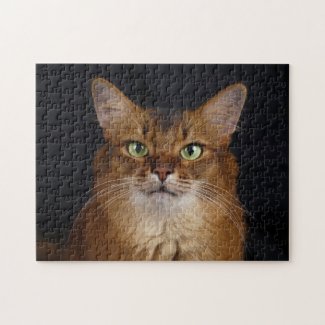 Somali Cat Photo Portrait Jigsaw Puzzle
See all of Summer's merch at her
her Zazzle Designercat Shop