Every so often, a bunch of us blogging kitties come together for one of our own. Our good friend Madi passed away recently, and we were all supposed to do blog posts in her honor. We were told our posts should involve the color red, boxes, or both. Since Binga, like Madi, was a member of the Crotchety Cougars, I knew that she should be included in the post.
Well, that didn't work out too well! Binga didn't want to wear her red hat, or cooperate for the photo session. Oh, she wanted the treats that went with the shoot, she just didn't want to have to work for them.
Amazingly, my human actually got one good photo of Binga!
Not so amazingly, Binga wanted treats for sitting still for 1/60th of a second. Needless to say, we never got around to adding a box to the photo session.
Well, it's the thought that counts, right?
* * *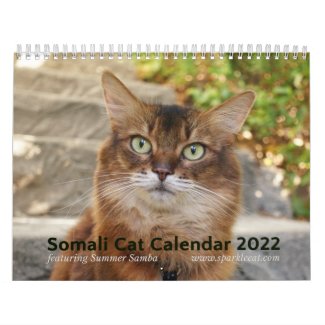 2022 Somali Cat Calendar Starring Summer Samba
See all of Summer's merch at her
her Zazzle Designercat Shop