Just when I thought the holidays were over, more packages arrived at our house! It was like Christmas all over again. This package came from Germany.
It was from a family of Somali kitties and their human! They mentioned they were sending me, Binga and Boodie something and I forgot to check where they were located. So I was really surprised to see the return address.
Wow! Look at all these treats! They are those fabulous meat sticks I adore, and some other really, really yummy cat treats too!
Oh, and also a treat for my human. Here's a closer look — if you travel somewhere that has these, get them for your cat. Seriously!
I'm embarrassed to say that this is the only clear photo my human could get of me enjoying one of the sticks! They really are that good. Thanks so much to Gwennie, and Jack, and Mel too!
Then this showed up! When I posted my photo with Santa from Petco on Instagram, the Petco foundation commented that if I gave them my address, they would send me something from Instinct. Since Instinct is a regular food here, you bet I did! And they sent me this huge bag of Mixers! That was really nice of them. And you know what else? My human stopped by that Petco a couple of days ago to get food for Binga, and she was checked out by Santa! Well, he wasn't wearing the Santa outfit, but it was the same guy who I posed with. And he remembered me and asked after me — and told my human to bring me with her next time! Isn't that cool? I guess that means I am already on Santa's good list for 2018.
And then, Phoebe from 15 and Meowing's sunglasses arrived! They have been making the rounds of blogging cats, and I have been waiting a long time for them. There were also toys. Binga immediately absconded with one.
Sadly, Phoebe is no longer with us, and it is an honor to wear the sunglasses.
I really like these sunglasses — they are very stylish.
Binga came back, so I decided maybe I should let her try on the sunglasses too.
Figures she would wear them that way. Anyhow, it looks like 2018 is already off to a great start!
P.S. That priority mail package in the background? It contains my first giveaway for the year — more will be revealed in a couple of weeks.
* * *
---
---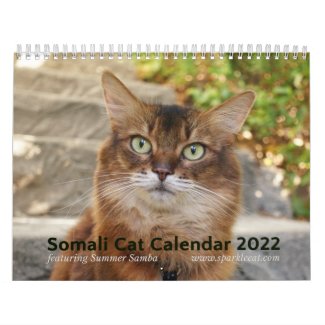 2022 Somali Cat Calendar Starring Summer Samba
See all of Summer's merch at her
her Zazzle Designercat Shop