For my human's recent birthday, her boyfriend got me an iPad. I knew it was meant for me when my human set it up.
I was quite excited! After all, I have seen all those awesome YouTube videos of cats playing with their iPads! My human downloaded every cat toy app she could find.
Well, I have to tell you, the iPad is not all it is cracked up to be.
Seriously, how much fun can a fake mouse cartoon be?
Binga just stared at it. I know what was going through her head: "What good is this?"
I don't get the appeal. I guess I'm just one of those cats who likes to chase after things that get tossed across the room. And one thing I know for sure: my human is not going to throw the iPad across the room! So I told her she could have it, and she is enjoying it a lot. Of course, she is boring and using it for things like loggining into early morning webinars while she is still in bed, looking at real estate prices on Zillow checking out the Internet Movie Database. Could she be any less interesting?
The iPad did have a big surprise for Boodie, though: herself!
If you can't see the above video, click here to watch it on YouTube!
* * *
---
---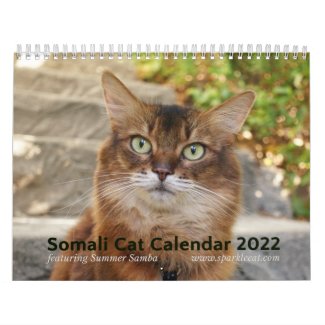 2022 Somali Cat Calendar Starring Summer Samba
See all of Summer's merch at her
her Zazzle Designercat Shop