Here I am, in the enclosed patio, and I'm about to do something no kitty has ever done before!
I am going to attempt to take a selfie while on this inversion table! Of course, my human is going to help me get up on it.
Here we go! I will be honest, I am beginning to have my doubts about this.
Well, it's not as bad now that I'm up here! I'm using my human to stand on.
I'll just grab the iPhone and we can get this done.
Ugh! I cut off the top of my head. It's my human's fault — she won't stay still.
I'm going to have to jump down if she keeps wobbling on this thing. Everything keeps going out of focus.
Meh! This is the best you're gonna get. I could do this way better if only my human would stop this table from rocking back and forth.
* * *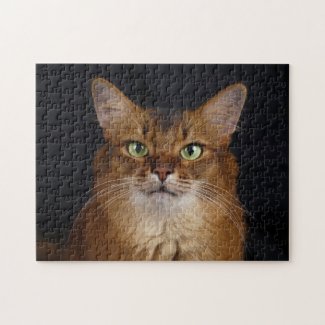 Somali Cat Photo Portrait Jigsaw Puzzle
See all of Summer's merch at her
her Zazzle Designercat Shop