Why am I sticking my tongue out at this airport pizza? Because it is a veggie pizza! It's a good thing my human has cat food and treats for this trip because it's clear I won't want to eat anything of hers.
I know my ears look wonky here, but this is actually my purring face. I'd just gotten some treats for doing High Fives and Shakes and was about to settle down into my human's winter coat. She says we are going to need it for where we are going.
I spent some time watching Airport Employee TV too. I wanted to go visit with people, but my human said this wasn't a therapy visit! Funny enough, every time I'm on a leash now, I think I'm supposed to be social.
We are spending the week in Vancouver, BC and from what I gather, there are a few more hoops to jump through than just a normal domestic flight. Like the Customs Declaration form… which my human messed up! She almost forgot to declare me. At least she remembered my rabies vaccination certificate — they all wanted to see that at the airport.
At baggage claim, the suitcases weren't coming down the chute yet, so my human let me out of my carrier and put my winter jacket on. (You may remember it from this photo shoot.) Once she got her suitcase, she let me stretch my legs some more before we caught a cab to the hotel.
The hotel looked oddly familiar, mainly because it's the same chain we usually stay at for cat shows.
The view out the window wasn't familiar, though! We arrived at the hotel in the evening, so we stayed in, but my human promised we'd have some adventures during the day.
To keep me occupied, my human brought out my Nekofly! You might notice there's only one pillow on the bed. That's because the other four are blocking my entrance to behind the bed. My human is a spoilsport like that.
It was a long day, so I crashed out early. I hope my human wasn't planning on using that pillow.
* * *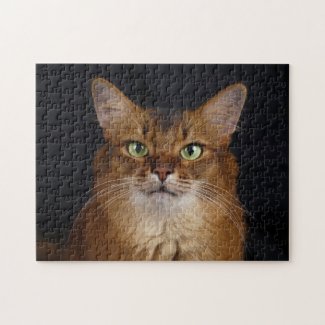 Somali Cat Photo Portrait Jigsaw Puzzle
See all of Summer's merch at her
her Zazzle Designercat Shop