It's been a while since I've done a full outtake post. So when I looked at my recent photo sessions, I realized I had enough for two posts — one of just outdoor outtakes (which you will see tomorrow), and today's inside outtakes from indoor photo sessions. So let's get started!
This is from my piano photo session. My human says I need to learn piano basics before I start getting fancy with the paw work!
This was my attempt at playing one-pawed. As you can see, my surprised human wasn't prepared to frame me properly and cut off the tips of my ears.
I didn't realize how much work it was to learn piano! As you can tell, I got kind of frustrated.
Can you see my tiny sliver of tongue? I was really disgusted by the condition of these dresses! If you saw my earlier blog post, you know my human tried cleaning them, with mixed results.
Sometimes during photo sessions, I have a habit of walking right over the props and asking for treats before we've even gotten started. That's what is going on here.
During my turret play session, my human thought it would be cool and arty if she took a photo where all you could see of my face was my lips. Instead of arty, it turned out looking silly.
I hope you enjoyed these outtakes! Do you have a favorite? Let me know in the comments.

* * *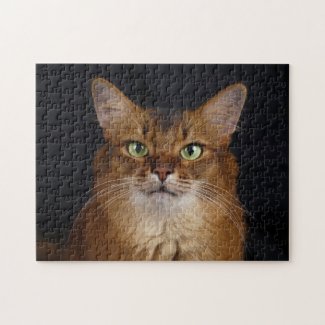 Somali Cat Photo Portrait Jigsaw Puzzle
See all of Summer's merch at her
her Zazzle Designercat Shop