When I went to BlogPaws, my human brought a couple of hats along for me, but I wound up not wearing either of them. One of them was this Independence Day hat. I think you can see why I wound up not wearing it. But I thought I would give it one more try for my selfie, since the Fourth is tomorrow.
Well… I am really tempted to just forget it, but I think I'll try a different look before giving up.
It looks better like this, but I don't think it'd make for a good selfie.
Maybe if I just wear it slung around my neck, it'll work. Let me wrestle the iPhone away from my human so I can get this done.
I need to change the angle — there's a terrible glare in the background.
I got rid of most of the glare, but now the hat slipped!
Oh, never mind. I'm just going to leave it. I hate this hat.
* * *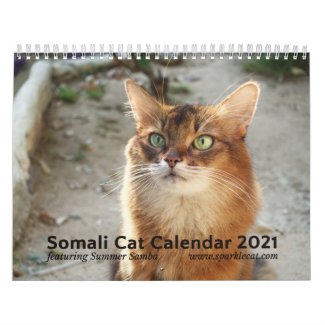 2021 Somali Cat Wall Calendar, Starring Summer
See all of Summer's merch at her
her Zazzle Designercat Shop