It's time for another round of outtakes! Let's see what's gone wrong lately….
Look! I photobombed myself!
Here is Binga taking her own advice from yesterday — she is trying to steal Boodie's treat!
I must have been saying, "Oh darn!" because I did not final in a ring at this cat show.
Is it so wrong to chew on the ribbons you won fair and square? Okay, maybe it is not totally right either.
Whaddya mean crowns aren't toys? Of course they are! Just like cat show ribbons.
The end!
* * *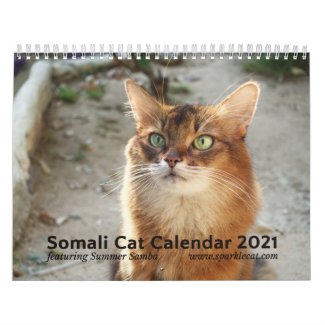 2021 Somali Cat Wall Calendar, Starring Summer
See all of Summer's merch at her
her Zazzle Designercat Shop