I got to go shopping yesterday! It all started a couple of days ago, with my pals Manna and Dexter's blog. They are going to the BlogPaws conference and their human got Dexter the coolest Batman harness. Of course I wanted one just like it. It was late on the East Coast and they were probably asleep, but my human wanted to know where it came from now. So she did a quick Google search — and found it! They have them at PetSmart… except they didn't have them in stock at my usual PetSmart, so my human searched their website… and found a different location nearby that did. So Monday afternoon, we were off!
Since my human didn't bring the sturdy shopping bag for me to stand on in the cart, she made me stay in my carrier, since she thought I would be more comfortable. I guess it was comfortable enough, but it was no fun.
So as soon as I could, I jumped out of the carrier and started to explore. My human had to abandon the cart for a few minutes while I looked at stuff. She is kind of overprotective. She did not allow me to turn corners without her being able to see what was around them. There were a couple of dogs in the store, so she felt justified.
Eventually we found the aisle with all the apparel. There was lots of superhero stuff! There were harnesses and outfits for both Batcats and Superkitties.
The practical reason I came along (besides the fun reason) was so that I could try on the harnesses and get the right size. The only problem was even the extra small was too big for me! I guess Dexter is a bit larger than I am. But don't worry — we did not go away empty handed! You'll find out what we got later this week.
* * *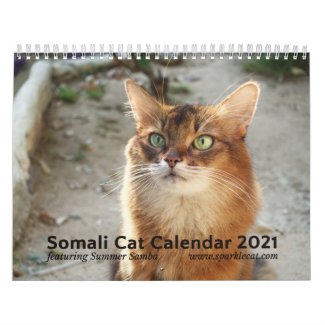 2021 Somali Cat Wall Calendar, Starring Summer
See all of Summer's merch at her
her Zazzle Designercat Shop