Back in mid-June, I got an email from a marketing human asking me if I'd like to check out one of Imperial Cat's Ice Cream and Cupcake catnip toys. Of course I was interested! But I also wanted to know if Imperial Cat would be interested in a giveaway. The marketing human never replied to my question about a giveaway, but last week I received this Ice Cream toy in the mail. No accompanying letter or press release or anything. I had to send my human looking through my old emails because I'd totally forgotten being contacted by the marketing human. We kitties have a lot going on, you know.
I checked out the toy thoroughly. It's made out of super-soft material. It comes with catnip, which you sprinkle into the toy, then seal it shut with the velcro closures. I bet it would be really fun to carry and bat around!
I kind of would have liked to hang onto this toy, but you know what? We kitties do have a lot of toys already, and nobody ever got back to me about a giveaway so… I've decided to give this one away to a lucky reader! To enter, all you have to do is leave a comment below saying you would like this toy. It's small and lightweight and the catnip is well sealed, so I am pretty sure I will be able to ship it internationally — that means everyone can enter! The deadline is Monday, August 4 at Midnight, Pacific Time!
Of course, not every kitty agreed with me about giving away this toy… but I always have the last word!
If you would like to see more Imperial Cat toys, you can find a bunch on Amazon! I couldn't find this exact toy but a lot of the other ones looked really cool.
Disclosure: Link to Amazon is an affiliate link. I received the cat toy for free, but I am spending my human's money to ship it to the winner! All opinions are my own.
* * *
---
---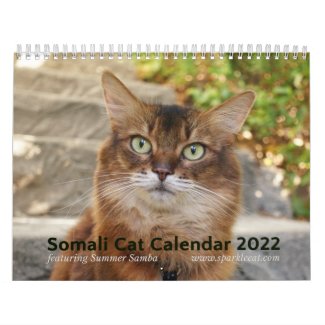 2022 Somali Cat Calendar Starring Summer Samba
See all of Summer's merch at her
her Zazzle Designercat Shop