My human had to make a quick stop at the pet store on her way back from getting office supplies (which is why I wasn't with her). And she found this. Yes, it's a Halloween costume. They're getting them in stock now. But it's sort of a year-round type costume, so she thought it would be nice to have. I am such a little angel, you know!
I have to say, the one size fits all promise gave me pause. We all know how that generally works out. But my human promised that it looked like it ran small.
And what do you know? It did fit! Of course, the velcro was squinched in to the max, but it wasn't ridiculously loose like most "one size fits all" outfits.
After a few moments I discovered a few other issues, however.
The halo seemed to have a problem staying on straight. I hope this isn't a statement about whether I'm angelic or not.
The wings started going every which way too. Plus I don't think I'd be able to fly with them.
Being an angel isn't all it's cracked up to be! Plus I'm not supposed to be naughty. That's no fun!
* * *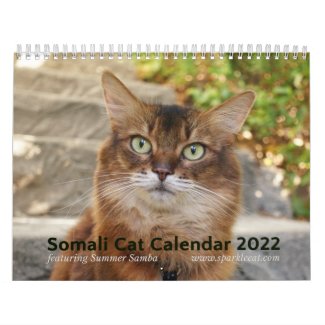 2022 Somali Cat Calendar Starring Summer Samba
See all of Summer's merch at her
her Zazzle Designercat Shop