In the BlogPaws swag bag, there were several packages of Delightibles cat treats, and most of them went to my Cat World Domination Day winner, but my human kept one for us. We loved these treats. A lot. In fact, when the bag was almost empty, I figured out where my human had put it — and I stole it!
Sure, I chewed up the bag and drooled on it, but technically I didn't get it open. Besides, I'm not sorry.
And although I didn't get that bag open, it wasn't for trying!
And trying, and trying.
And no other kitty was allowed to touch my bag! I do want to say I was polite, though. I did not growl, not even once! If you want to see me in action with the treat bag (before my human threw it in the trash), you can see in the video below.
If you can't see the above video, click here to watch it on YouTube!
* * *
---
---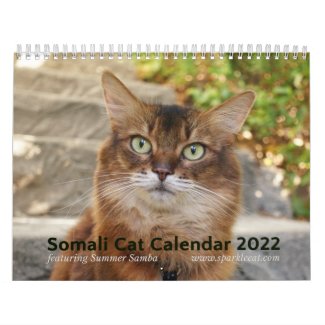 2022 Somali Cat Calendar Starring Summer Samba
See all of Summer's merch at her
her Zazzle Designercat Shop