I went to one of my regular hospitals on my latest therapy cat visit. The nurses and staff were so happy to see me! A lot of them know me by name and a couple of them even follow me on Instagram. One of the workers also works at the children's hospital I sometimes visit, and she recognized me from there. It's nice to get so many warm greetings.
As far as visits, it was a little quiet. A lot of the patients were sleeping. My human and I peeked into one dark room, expecting to see someone asleep, but the patient was actually awake and motioned us in. She didn't want to get too close to me — she was used to cats being unpredictable. But she still wanted to admire me and talk about me, and the cat she used to have. Another patient we saw was a man who was sitting up and pecking away at his laptop. He didn't really care about seeing me, though. He told my human that he's a horse person. "My therapy animal weighs 1500 pounds," he said. He did think I was pretty. On the way to the elevator, I got to visit with a patient who was walking in the hallway with his wife.
On the other floor we visited, one of the ladies we stopped for said she was allergic. But she was still delighted to see me! She couldn't stop talking about me, even though we weren't able to get too close to her. During most of my visit, I didn't get to spend time on the bed with any patients. That was a bit disappointing. Finally, we saw a patient who was surrounded by family members. They were all excited to see me. And even though the man was a little out of it, I got to curl up on the bed with him. He petted me lots and several family members whipped out their phones and snapped lots of photos of me.
The one really awesome thing about this visit was how everyone was so happy to see me! Even the people who said they didn't want to see me were all smiles. I love days like that.
* * *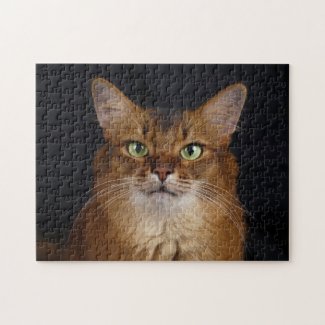 Somali Cat Photo Portrait Jigsaw Puzzle
See all of Summer's merch at her
her Zazzle Designercat Shop