I had lots of nice visits at the hospital yesterday, and almost everyone had visitors. That meant I was not only helping the patient but the visitors too. A lot of people forget that this is really important. Sometimes the patient is very sick and not very responsive, and their family is very worried about them. So I am able to give them a nice break from all the stress.
The first patient was an elderly Spanish speaking lady who had two other women there. I think the women may have been daughters because they were older, but still much younger than the patient. They all liked cats, so of course I liked them back. In fact, one of the visitors told the story of a mom cat that had kittens in her backyard, and how she caught them and spayed and neutered them all. She wound up keeping one of the cats. Hearing this story sure made my human happy!
The next patient was an older man who was being visited by his middle aged son. The father laid in bed quietly, and didn't react much while his son chatted away about the chihuahua his dad had rescued from the shelter. But even though the dad was quiet, he was very happy to see me. My human laid a sheet down so I could relax on the bed, and he slowly put out his hand to pet me. When he did that, an almost imperceptible smile appeared at the corners of his mouth and his eyes had just a little more spark than they had a moment before.
Sometimes I don't even have to visit a patient to make a difference. In one room, there was an Asian woman being visited by her family. Neither she nor her son spoke much English, but her grandson did. He was able to explain to them that my human and I were a therapy pet team. The lady smiled, but said she didn't want a visit… then as we left we heard them talking animatedly, and I knew it was about me! So I gave them something fun to talk about instead of hospital stuff.
One man we saw didn't have a visitor in the room — but his girlfriend was on FaceTime on his phone. So while I visited, she watched while she put on her make up. That was fun. He really enjoyed my visit. The last people I saw were a Spanish speaking mother and her daughter. The mother was the patient, and the daughter chatted with us in English while I hung out on the bed with the mother. The daughter really wanted a dog or cat to help with her stress because she understood how calming a pet can be. It's always nice to meet someone who really gets how beneficial we furry family members are.
* * *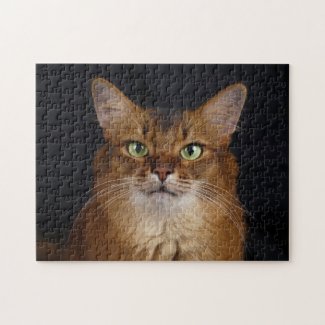 Somali Cat Photo Portrait Jigsaw Puzzle
See all of Summer's merch at her
her Zazzle Designercat Shop