My human and I went to PetCo to buy cat food today, but it was different from our usual trips, where she brings me in the carrier, and then lets me wander on my leash inside. I did make the trip in my usual carrier, but…
She put me in the Wacky Paws sling! In spite of my face in this photo, I actually like it better than being carted around in the carrier. My human just couldn't take a photo of me while she had me slung over her shoulder and, well, it is not exactly supposed to be set on a car seat! She will be using the Wacky Paws sling more often over the next couple of weeks because that is how I will be carried around inside the hotel at BlogPaws.
What I like about the sling is I am better able to interact with my human, and I can look out at things, or burrow inside as I wish. But what I enjoy best about visiting places is being able to wander! I am a kitty who likes her freedom. The moment my human sets me down, I start trotting up and down the aisles. I ran into a nice human and her two boys and either an aunt or a friend. They are getting a pair of kittens soon, so they asked my human for advice.
Notice anything familiar about the big cat behind me? Yes, it is a fellow Somali cat, only that one has red fur. My fur color, which is more brownish, is called ruddy. I would love to be a model too!
I will be honest… I think I am prettier than the kitty behind me! Maybe it is not polite to say that, though.
That made me wonder… do you think I will get any modeling offers at BlogPaws? I wonder how much it would pay?
* * *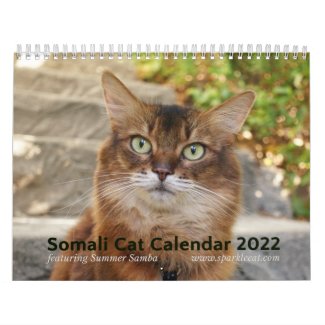 2022 Somali Cat Calendar Starring Summer Samba
See all of Summer's merch at her
her Zazzle Designercat Shop