I always say, "Work hard, play hard!" And that is how this week went. I finished it up by playing with my Rompicatz Rustlin' Butterfly Teaser. You might recall I had a giveaway a few weeks ago. My human wanted to get some shots of me with it when I announced the winner, but she couldn't find it. It turned out it was hiding in plain sight… so I got a play session with it.
This Teaser is far and away my favorite toy of the three I tried out, and I'm glad my human found it! I was more than ready to attack it.
I love chasing after it, and it moves and glistens in the sunlight.
My play sessions in the turret always wind up the same way — with me reaching out like this trying to snatch the toy. If I am having an especially good time, I go cross eyed!
It looked like, once again, I was going to succeed in going in for the kill!
Then it pulled an illegal move! Don't worry — even though it looks like it won this round, I beat it in the end!
* * *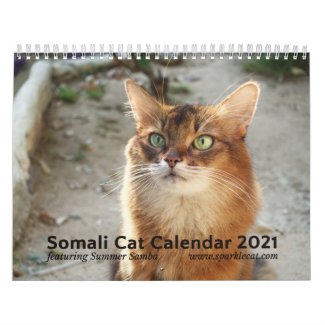 2021 Somali Cat Wall Calendar, Starring Summer
See all of Summer's merch at her
her Zazzle Designercat Shop