I saw a bear on my outing for my Easter photo session! Seriously! Take a look.
Don't say I wasn't lying! And she was even dressed up for Easter.
I will say it wasn't exactly a scary encounter. In fact, it was pretty docile.
If you are wondering why I didn't post this on April Fool's Day, it's because we did the photo session on April 2. It's actually kind of funny how this bear showed up in my photo session. My human was putting together the Easter shoot, and she thought to herself, "It would be perfect if I could only find an Easter bear." And she went into our bedroom… and there it was! She had completely forgotten she had it. So it came along outside with us.
Don't worry, my human is extremely careful about taking me outside right now! But I really, really love going out on my leash, and she hates making me stay inside so much. So we have to split the difference between being overly cautious and being just cautious enough. With any luck, this will be the only bear I ever see!
Other posts you'll enjoy:
* * *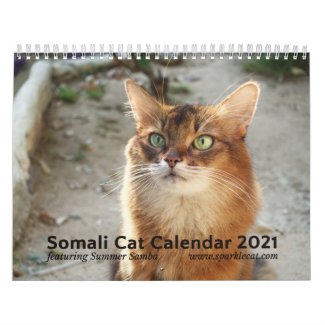 2021 Somali Cat Wall Calendar, Starring Summer
See all of Summer's merch at her
her Zazzle Designercat Shop