You might be wondering why I am sitting here looking slightly annoyed.
This is why! My human kept holding the my new Yeowww! catnip heart while trying to get a photo of me looking at the camera. I'm not patient with the catnip toys like I am with my treats. Plus note her thumb is covering up part of the brand name.
I practically had to turn myself inside out with cuteness to make her give it to me already.
Finally, she handed it over. Bliss!
She is never getting this heart back. Meanwhile, I am going to lick it into oblivion.
This is the highest I've been since… oh, the last time I looked in on my catnip garden! And oops, I flipped it over so you can't see the brand name. I'm no better than my human!
No matter. I am going to play with this until I pass out.
Other posts you'll enjoy:
* * *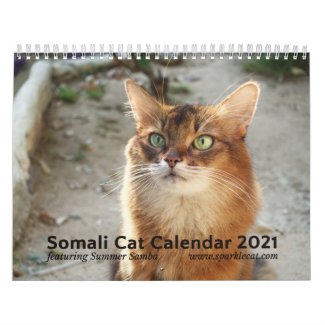 2021 Somali Cat Wall Calendar, Starring Summer
See all of Summer's merch at her
her Zazzle Designercat Shop