It turns out that since I'm a cat that meets and interacts with the public, I have to get a Covid vaccine to keep doing it. Sure, the risk of passing the virus between animals and humans is small, but everybody wants to be safe.
I am one of the first animals to get it, so here I am in this crazy, makeshift office. Honestly, I don't know how I feel about this. I mean, are they far enough past the experimental stage? Will I have side effects? I guess I will find out.
Oh, I can hear the doctor coming down. Or is that a vet? I have no idea who's giving these shots.
Wait, it's Dr. Bones! That can only mean one thing…
APRIL FOOL!
Actually, there is enough science behind everything I said to make it almost real. In fact, they even have developed a Covid vaccine for animals in Russia. So don't feel too foolish if you fell for my joke.
Frankly I'm hoping this novel coronavirus won't be so novel by the time human-animal transmission becomes a concern (if it ever does). In the meantime, you can do your part by keeping up with masking and social distancing measures and getting vaccinated when you can (if you are a human).
My human goes for her second Pfizer shot on Monday. (One of the hospitals where we volunteer made arrangements with our pet therapy organization.) She is looking forward to seeing friends again and shopping at Target in person without worrying about making herself sick. Maybe we are coming out on the other side of this thing, and it is about time!
Other posts you'll enjoy:
* * *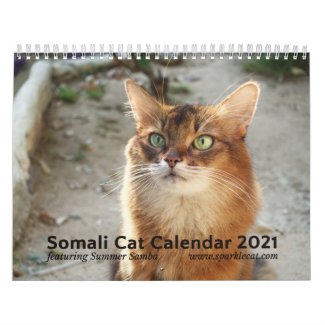 2021 Somali Cat Wall Calendar, Starring Summer
See all of Summer's merch at her
her Zazzle Designercat Shop