One thing my human has always wanted to do was take a kitty to the annual Blessing of the Animals event at the Olvera Street Plaza. It happens every year there, the day before Easter. My human is not Catholic — she is not even religious — but she loves the ritual and ceremonial aspects of Catholicism, especially when the traditions take on a Hispanic influence, as they often do in our area. Plus this event is as much a piece of Los Angeles history as it is a religious ceremony — it has been going on since 1930. So she put on my pretty polka dot dress and we went. (She put a dress on me not only because I look pretty in it, but also because it makes me calmer, and she wanted to make sure I felt all right in the midst of the crowd.)
We took the Metro Rail Gold Line down to Union Station. The Olvera Street Plaza is right across the street.
There was a big crowd of humans with their pets! Hundreds of people. You can see Union Station in the background of this photograph.
While we were waiting we were entertained by this dancing horse.
This family had an interesting way of bringing their dogs!
Several humans, like this one, brought birdies!
My human and I waited by some ferrets. It turns out that the human who was with them knows the humans who run S.C.A.R., the Abyssinian cat rescue from my commenthon, so she and my human had a lot to talk about. I was jealous of the ferrets. They got to go out on their leashes. My human made me stay in the carrier, even though I had my leash. I think she was being overprotective.
After about an hour, the procession started!
A cow always leads the procession, and the Archbishop of Los Angeles is not far behind.
The Archbishop human took his place on the small stage and sprinkled Holy Water on everybody's pets as they passed by. My human had my carrier open so I could get sprinkled on good. Even though she is not religious, she says she is not taking any chances with me!
We were somewhere in the middle. There were still lots of humans with their pets walking past after us.
My human let me look around the Plaza a bit. There were all sorts of creatures.
My human went crazy over these two! She loves reptiles. I did not get to sniff them.
I know there were other cats at the Blessing of the Animals but my human and I only saw this one. I heard later there was a Sphynx with an Instagram account. I followed him, but so far he hasn't followed me back.
So that was my big adventure! I can't wait to go again next year.
* * *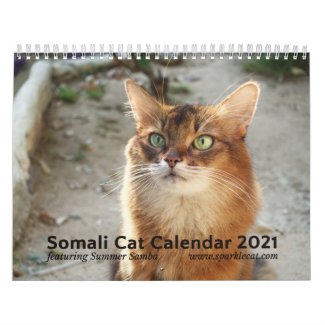 2021 Somali Cat Wall Calendar, Starring Summer
See all of Summer's merch at her
her Zazzle Designercat Shop