The Acrocats had a cat birthday party for two of their members, Annie and Alley, on Zoom! So you know I had to be there. I even put on one of my favorite party dresses. I was so excited I was purring and making happy paws.
The party included a show with the Acrocats. So I could see better, my human hooked up the iPhone to the TV. I sat in my chair and waited!
Finally the show began. I was transfixed!
The cats did lots of the tricks from their in-person shows, including the shopping cart one.
I even wanted to join in! Can you see my screen in the upper right hand corner?
Since cats can't clap their paws, my human gave me my bell to ring in lieu of applause.
I even got to wear my tiara for a little while! The party went on for over an hour and both my human and I had a blast! There were lots of Acrocats fans in attendance.
The party was also a donation drive for the Acrocats and Rock Cats Rescue. Because of the ongoing pandemic, they aren't able to tour, but they still have lots of living expenses, including medical care for the cats. So if you would like to help out, either by a donation, buying them something off their Amazon wish list, or by purchasing some of their merchandise, please stop by the Acrocats donation page.
Other posts you'll enjoy:
* * *
---
---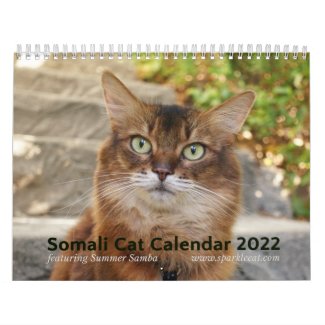 2022 Somali Cat Calendar Starring Summer Samba
See all of Summer's merch at her
her Zazzle Designercat Shop