Most of you know that part of being a therapy cat involves wearing a harness. When I am ready to go visiting, I will have to be on a leash, and a harness is the most comfortable way for a cat to be on a leash. Even if you are not a therapy cat in training, being on a leash is cool because you can go outside with your humans and still be safe. So if you think you would enjoy going outside, maybe you can talk your human into harness and leash training you.
This is my first, and current harness. In case you are wondering, it is a Puppia Flame Harness, size small. My human was originally going to get a vest style harness like the one Charlie Rascal is wearing in this blog post, but when she saw this one, she decided it would be better to start me off with something a little more lightweight.
It slips over my head easily and closes with a heavy-duty, secure plastic snap.
Doesn't it look nice on me? I like posing with my harness on. I will confess it is just a little big around the neck, but I will grow into it in a few months, if not sooner.
My human can securely fasten me into my carrier when we go out shopping. I like how the harness makes me look professional and stylish!
Every time I wear my harness I get treats and skritches! Since I don't mind wearing it, it's kind of like getting bribed for something I already like to do.
Oh yeah, I am also supposed to show you how not to wear a harness!
Like I said, the neck is a little big on me right now. I am taking advantage of that because I know there will be a day that I won't be able to do this!
Disclosure: Link to Amazon is an affiliate link, although my human actually purchased the harness at a local — gasp! — dog boutique.
* * *
---
---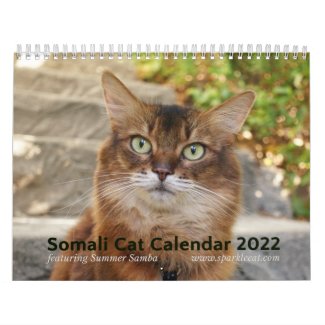 2022 Somali Cat Calendar Starring Summer Samba
See all of Summer's merch at her
her Zazzle Designercat Shop